Monday 3 June, 3pm
Tipping Technologies
LPAC Studio 1
Olivia Yip (Hong Kong Design Institute)
'Investigation Digital Heritage: Exhibiting Qing Emperor's Wedding with Digital Conductive Wall'
Abstract
Project Background: Back in 2016, Hong Kong Design Institute (HKDI) was jointly collaborated with Leisure and Cultural Services Department, The Palace Museum, Hong Kong Heritage Museum and The Hong Kong Jockey Club Charities Trust to develop an exhibition, namely Ceremony and Celebration, The Grand Weddings of the Qing Emperors. In the project, HKDI has recreated an animated short film about the grand scenario of Qing emperors' wedding. This project marked the first time HKDI has put so much effort to capture the cultural atmosphere through graphic design, animation and digital editing. The overall feedback is marvelous, as audience could gain an experience to witnessing the grand wedding ceremony and learn about various rituals through different stages of the ceremony. Project Summary:The emperor's wedding was officially referred to as Grand Wedding (dahun) to differentiate it from hose of his subjects. It ranked among state ceremonies. Only emperors who ascended the throne before reaching adulthood had the privilege of holding grand weddings within the precincts of the imperial palace. Of the ten emperors successively ruling over China after the Manchu's entry to the Central Plain, only four emperors, namely Shunzhi, Kangxi, Tongzhi and Guangxu had their grand weddings held inside the Forbidden City. The grand wedding as a state ceremony demanded great pomp and solemnity. The rituals of the grand weddings of the Qing dynasty were extremely elaborate, adopting mainstream marriage rites passed down through Chinese history as well as incorporating customs of the ruling Manchus. Through the Grand Weddings, the unexcelled prestige and extravagance of the imperial house were demonstrated, and the sublime authority of the sovereign was manifested.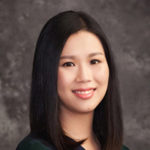 Dr Olivia Yip
Associate Director
Hong Kong Design Institute
Dr Olivia Wai Ka Yip, Lecturer, Department of Communication Design and Digital Media, Hong Kong Design Institute, Vocational Training Council. Dr Yip devotes herself to working as the Associate Director of HKDI Media Lab which is designed to be a hub to nurture and enhance integrated development of innovative ideas and media technologies for applied research, professional training and industry application. HKDI as a member institution of VTC, is committed to nurturing design talents for the long-term development of creative industries and promoting design technology as a mainstream choice of education and profession.
Maniyarasan Rajendran (C.A.R.E, Centre for Applied Research and Education)
'Representing intangible cultural heritage of Madurai's Chithirai festival, India'
Abstract
Chithirai festival at Madurai, India, is an annual affair, held during April-May. This festival is a reenactment of Celestial Wedding of the local deities. Lord Kallazhagar is the first man. To make Azhagar's intention to arrive for the wedding clear, He rides the horse and crosses the river 'Vaigai' but year after year he misses the wedding as per the mythology. With this core narrative at heart, the festival has evolved, changed and sustained over four centuries. It has kept value systems of various communities. Each ceremony has a specified time and space, with distinct characteristics and clear leadership from the respective groups, that are deeply connected with the caste systems. New businesses, temporary markets and transformation of spaces are recurring annual affairs. Spaces ('mandagapadi') get modified from commercial to resting halls for the Gods along their marked journey within towns. The span of the movement of the festival is around 25 sq miles. In addition, there are characteristic attire, equipment, tools, etc., used by the devotees during the festival. Arguably the most famous festival of southern Tamilnadu has historical accounts of a British and a Tamil author, written during 1801 and 1979 respectively. This paper is a part of an ongoing visual documentation project on the festival, that continues to corroborate and compare with the available historic written records. Photographic documentation of the festival was undertaken during 2017-18. As its continuation, the project this year aims to achieve two parts (i) Documenting the intangible cultural heritage of the festival and its customs (ii) Digitally representing the festival using photogrammetric and cartographic methodologies. The paper will examine the possibility of a digital exhibition of 'chithirai festival' with its artifacts, oral narratives, customs, spaces, etc., transformed into a virtual space. It would be vital information for posterity.

Maniyarasan Rajendran
Research Scholar (IITH) & Design Cell In-Charge (C.A.R.E)
Maniyarasan Rajendran is a research scholar at the Design Department, IIT Hyderabad. 'Architectural documentation' is his core research area. He takes up work as a visual documentation consultant. He has his Bachelor's in architecture from SPA Delhi & PG in Photography from NID Ahmedabad & UCA, Farnham.
Rafaël Hart Barnwell (Moment Factory)
'Approaches to New Media in Sacred Sites'
Abstract
What do shared human experiences look like in the 21st century? With the increasing ubiquity of cutting-edge multimedia technologies, sacred spaces are beginning to explore the potential of digital features to create exciting and immersive visitor experiences that generate sustainable revenue. When combined with great sensitivity to context and culture, these new media frameworks have the power to enhance the unique identity of important heritage sites. Such experiences not only add value to the surrounding landscape, but also reinforce the original purpose of religious buildings as places of gathering and connection. Matei Georgescu Paquin, a Producer with Moment Factory, will discuss the company's past and present projects, including work with Montreal's Notre-Dame Basilica, Barcelona's Sagrada Familia and Reims Cathedral.
Rafaël Hart 
Barnwell
Business Development Manager – Europe
Moment Factory
Rafaël Hart Barnwell is an accomplished strategist who brings her keen understanding of multimedia integration to a wide range of projects. With a background in theatre and television production, she joined multimedia studio Moment Factory in 2015, where she helped to define the company's vision, voice, and ethos, and played a key role in supporting their initiatives in Asian markets. Now based in Berlin, Rafaël is the Business Development Manager overseeing European projects. Her passion for activating immersive multimedia experiences in unique locations allows her to identify the ways in which new technologies can be incorporated into cultural and heritage spaces.